Software-Defined Wide Area Network and Its Uses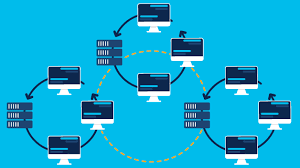 A virtualized service called a software-defined vast area network (SD-WAN) links and extends business networks across broad stretches of land. Wide area networks (WANs), which allow users to work from anywhere by using connectivity including multiprotocol label switching (MPLS), wireless, broadband, virtual private networks (VPNs), and the internet, allow users at remote, distant offices to access business applications, services, and resources.
It routes traffic based on performance thresholds and locations to prevent network downtime. If one area experiences a system delay, another area will automatically take over. This kind of network prevents your network from being down.
Link bonding
To boost your software-defined wide area network (SD-WAN) performance, you can combine ideas of link bonding and SD-WAN. Link bonding consolidates and aggregates last-mile services to provide a single pipe to your applications. On the other hand, SD-WAN is a network technology agnostic to transport types, allowing you to integrate any transport easily.
Link bonding is an improvement to the traditional MPLS network, which relies on multiple internet links to deliver a single service. It improved global connectivity but was expensive and hard to scale. Link bonding aggregates numerous internet links to provide more reliable service. It's a viable alternative to MPLS, but its main limitations are the cost and routing control.
Dynamic routing
Dynamic routing is one of the critical features of the software-defined vast area network (SD-WAN). It allows you to segment your traffic and prioritize mission-critical applications, while non-mission-critical traffic is routed through alternative paths to minimize costs. Additionally, SD-WAN can automatically shift traffic to a different connectivity option during peak traffic hours. This routing ensures that there is enough capacity to handle requests.
With this solution, network administrators don't need to worry about managing many routers and gateways. Network administrators no longer need to use complex command-line interfaces and scripts or travel to network experts to configure gateways. In addition to ensuring that traffic is routed appropriately, network administrators can also maintain compliance with business policies and improve the user experience.
Software-defined wide area networking was born out of the need for higher performance networks. It replaces costly legacy private WAN technologies, allowing organizations to create more flexible, cost-effective WANs. This approach enables IT departments to better control bandwidth prioritization for critical applications and services. In addition to improving network performance, SD-WAN enhances the reliability of cloud-based applications.
Application-driven policies
The software-defined wide area network (SD-WAN) architecture allows enterprises to steer traffic intelligently based on application-driven policies. This approach empowers geographically dispersed organizations to gain consistent application performance, robust security, and operational efficiency. Application-driven policies in SD-WANs are built on understanding application traffic flow and business intent.
Legacy WAN architectures are network-driven and were designed for an era when data centers hosted the applications. Because of this, they can make it challenging to deploy and provision new applications or policies. In addition, to configure these legacy WANs, enterprises have to rely on specialized IT staff and configure the routers manually. This process is complex, lengthy, and error-prone.
With the advent of cloud-based services, companies must deploy cloud-based WANs that enable secure private/public cloud connectivity. Moreover, enterprises must consider zero-touch provisioning for cloud migration. The new architecture also helps enterprises reduce their costs and complexity by deploying sophisticated security resources only where they are needed.
Cloud-hosted security
Cloud-hosted security for software-defined WAN is a critical component of SD-WAN. With the right combination of security and network management, SD-WAN can help enterprises become more secure while ensuring business continuity. With advanced SD-WAN solutions, users can seamlessly connect their branch offices to the internet. With cloud-hosted security, IT departments can rest easy knowing that their data and applications are protected against malicious activity.
Software-defined wide area networks (SD-WAN) are a virtual networking architecture that enables enterprises to optimize connectivity while reducing costs. By decoupling the control and data planes, software-defined networks can deliver applications faster and more reliably. In addition, they can be configured in real-time and support hybrid cloud deployments.
SD-WAN is a critical component of SASE. With cloud-hosted security capabilities, SD-WAN deployments can become more agile, scalable, and efficient. In addition, cloud-hosted security solutions empower enterprises to deploy cloud apps and services across more distributed branch offices and workforces.