15 Best Free Ecommerce Software or Tools to Boost Your Business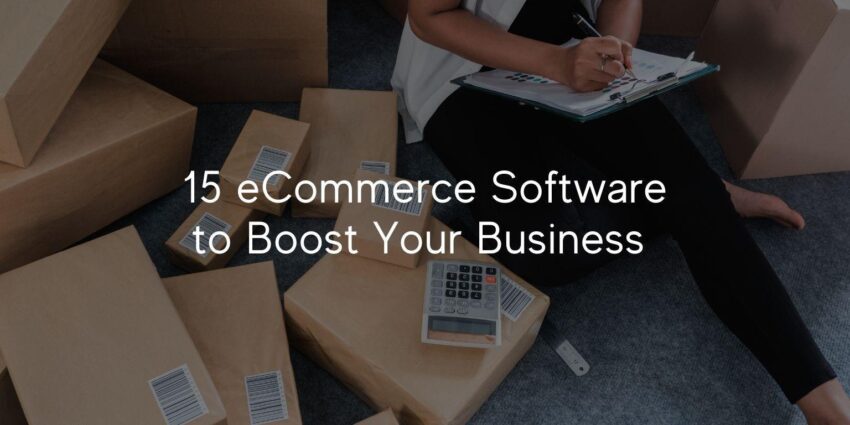 The digital age has brought dramatic changes to business marketing trends. Having a social media strategy, for one, can literally make or break a marketing campaign. With the changing norms in attracting customers, it can be pretty much a challenge to stay afloat in the industry. Many marketers are often faced with new challenges at such a faster rate that many find the process too exhausting.
Aside from social media strategy, there are plenty of other factors that must be considered in order to grow and sustain an online business. Whether you are just starting out or in the process of scaling up your business, it would make a lot of difference if you have the best ecommerce software to aid you.
What is ecommerce software, you may ask. To simply put it, ecommerce software are tools that may be used to help you manage an online shop. They are more efficient to use when tracking the growth of business.
If you want to know what ecommerce software is the best for your business, the answer can be a little complex. You see, these tools do not work the same way. Some are meant for creating an effective social media strategy. There are those that are meant to enhance photos for your website, like a transparent background maker. Some tools work specifically for tracking important statistics. There are even tools that help you pick the right keywords for optimizing site content.
Since it can be confusing which ecommerce tools to get for your website, we have carefully chosen 15 of the best ones to get you started. These are grouped in three segments to address the top issues that concern website management, namely: Website Optimization and SEO, Analytics, and Customer Relation Management.
Website Optimization and SEO
1. Responsiator
With the number of smartphone users growing rapidly by the minute, you seriously have to consider creating a responsive website. This tool will enable you to test how your website looks on different mobile devices. It will be so easy to see design flaws when using this tool.
The first thing that you have to learn whenever you create an ecommerce website is that you must have awesome product photos. They do not only make every page look better but they also create a positive impression among site visitors. Removal.AI is an all-around photo editing tool that you can use to remove an image background to make it transparent or add a neutral-colored background to pictures. This step is necessary when uploading product photos. New Removal.ai Desktop Application is available for free download.
3. Google Keyword Planner
Search Engine Optimization is a huge factor when it comes to optimizing your site for efficiency. The Google Keyword Planner lets you discover popular keywords that will not only improve your content but will also work wonders on your site rankings.
4. SEO Site Checkup
A detailed SEO analysis will not only give you a report regarding the status of your website but will also give you suggestions to guide you in fixing any errors.
Online shoppers choose to shop virtually because of convenience. They fancy fast loading sites because it makes the shopping experience fast and fun. You need to know, however, that website speed is affected by a lot of factors. If you are aiming for faster page loads, you need to have an effective analysis to see which parts of the website are making it slow.
Tools for Analytics
6. Google Analytics
First on the list is Google Analytics and this is such a well-deserved spot. This tool gives you the most important stats to monitor how users interact with your website. Few of the many useful data it can give you are bounce rates, page views, and conversion events. What is great about it is that the reports can help you analyze your site to determine problems and opportunities so that you can effectively create a plan that would specifically target the issue.
This tool works really well with ecommerce sites. It provides revenue metrics to show you visitor profiles. This is crucial because through this report, you can analyze what makes the customers abandon their carts. Needless to say, Kissmetrics will allow you to determine what can be done to make sure that customers are pleased with your website.
Made specifically for Shopify and WooCommerce shops, Conversific helps identify the marketing channels that are effective in improving conversion rates. It even lets you check which product descriptions are the best and which ones do not work.
Scaling up your online business will be a breeze if you are going to use Moz. This tool lets you track keyword rankings, not only for your site but also with competitors. It can also compare rankings for mobile and desktop. Aside from important stats, Moz also crawls your site so that potentially-damaging SEO errors will be identified.
10. Social Media Analytics
A social media strategy using different platforms is effective because it helps drive more engagement and conversions. These social media sites have tools to measure analytics from their platform. With the data they produce, you can see how your target audience interacts with your products. It will also let you identify which type of content is best appreciated by your customers.
Tools for Customer Relation Management
11. Zendesk Chat
Formerly known as Zopim, Zendesk Chat lets you set up proactive chats that are based on specific triggers. Being able to chat with customers in real time helps build trust and eliminate objections. This tool can also let you make a customized chat badge so you can integrate it on the design and maintain your branding.
One of the most effective ways to gain the loyalty of customers is by rewarding them. ReferralCandy lets you create a referral program for your clients. This tool will make it easier to set up custom discounts or offer limited-time deals. It can even let you see the highest-referring customers so you can send personalized referral links.
13. MailChimp
A good newsletter system is a must for every ecommerce website. Use MailChimp to send regular email updates about products, promos, and discounts. You can also create email campaigns that are specific for new customers or subscribers. It is also useful to target customers with abandoned carts so you can send a follow up and interest them with more information about the products or a deal.
14. 123ContactForms
This tool is great for creating contact forms. It has templates but you can also customize the look of the forms. It is useful since it allows you to create a platform where customers can leave a message with just a click. Although it is best for designing contact forms, 123ContactForms can also be used to make quick questionnaires, order forms, and registration forms.
15. User.com
Building a positive customer relationship can be challenging but this tool makes it a tad easier. As full-stack marketing automation software, this tool lets you manage all communications with customers. You may use it to chat with them, gather information for target customers, and send automated emails or SMS for promotions and follow ups.
As you can see, it takes more than a social media strategy to accommodate website growth. It is never enough to just plan what content to post next or which customer to send promotions with.
From designing the ecommerce site, to analyzing analytics, gathering feedback, and sending targeted emails, there is ecommerce software that can help you out.
May these tools that we have gathered help you boost productivity, make your site look awesome and ultimately achieve your goals.