How to Create an Exceptional SEO Strategy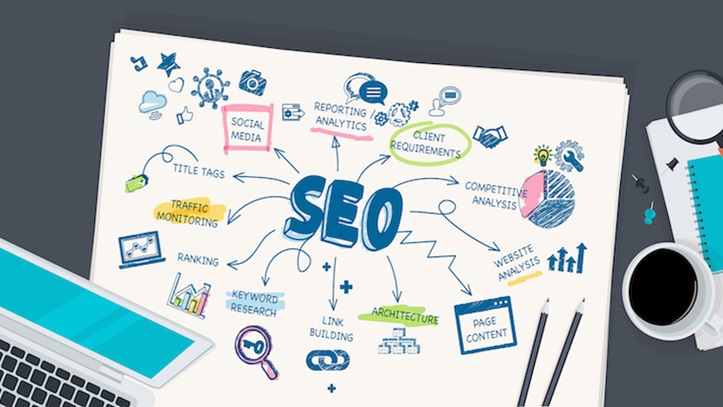 By now, we all know how important SEO is for the success of our businesses. Having the right SEO strategy can significantly improve any website's search engine rankings and, in that way, earn more traffic.
The question here is: Do you have the right SEO strategy? If you haven't updated your SEO strategy recently, you're on the losing end because things in the SEO landscape have changed quite a bit in the last year. A fast website, unique content, and ranking highly in search engine results pages are the things you need to be seen.
To help you out, here are some steps to help you create an exceptional SEO strategy.
1. Define and align your SEO and business goals
If you're not sure where to start, the wisest thing would be to take a look at where you are and where you want to go. You should do your best to define and align your SEO and business goals.
You can do this by performing an SEO audit which is basically a complete analysis of everything that affects your website's visibility in search engines. This process will help you improve your SEO and help you work towards achieving your goals.
Once you have the audit done, you'll know exactly where you stand and what to do next. The next is planning the budget, resources, and timeframe. This is a great time to also define your KIPs (key performance indicators).
The KIPs will help you measure the success of these new improvements and whether or not they are working for you.
2. Performing competitive analysis
The best way to improve your SEO strategy is by evaluating your competition. The competitive analysis includes evaluating competitors' organic search rankings, backlink profiles, blog strategy, online reviews, and even their social media, and so on.
In addition to your main competitors, make sure you also analyze your SERP competitors. That means websites that occupy the first page on Google for your target SEO keywords.
Finding out all of this will help you figure out where you're outranked, which keywords are most competitive, where you have the most opportunities and how to come on top.
3. Make a topic list
The next thing you should be aware of is that SEO has changed quite a bit in recent years. What this means is that keywords are no longer the first step toward achieving organic growth. Instead, we have topics.
So, start by making a list of topics you'd like to write about. The first step is making a list of around 10 terms and words that are associated with your service or product. If you're unsure how to do any of this, you can always hire a professional SEO agency. The SEO agency you hire will do this step for you by using various SEO tools to research words and terms and identify their search volume.
The point of researching these words and terms is to help you associate the topics with short-tail keywords. With the help of search volume, you'll be able to get a list of around 10 to 15 short-tail keywords relevant to your business and searched by your audiences. These short-tail keywords are the support for long-tail keywords that we're going to talk about next.
4. Make a list of long-tail keywords
As mentioned, you can now use short-tail keywords to find 5 to 10 long-tail keywords. These long-tail keywords are likely to be used by people deadest on purchasing your product or service.
By using these long-tail keywords you can create blog posts and web pages that are based on specific topics. With the help of all your long-tail words, you'll be able to create topic clusters – which are groups of related content that cover a very broad subject area. These topic clusters are also a great way to create a strong internal linking structure.
5. Create pages for each topic
Pillar pages, together with topic clusters are something SEO experts have been using for a while now. Pillar pages can broadly cover a topic and link to articles about subtopics. These pages are something like a table of contents as there is a description of the main topic and information about subtopics that you will elaborate on in other posts.
The number of topics and pillar pages will mostly depend on your business needs, for example, it can depend on the number of your products or the kind of services you offer. Creating topics and pillar pages in this manner will make it easier for your customers to discover you in search engines regardless of what keywords they use.
6. Create a blog and be consistent with it
A great way to strengthen your SEO strategy is with blog posts. If you don't already have a blog, it's time to make one. Blog posts can be a great opportunity to rank in SERPs and engage your users.
However, make sure you don't use your long-tail keywords more than three times throughout the post to avoid keyword stuffing. Also, link your blog post to the pillar page you created for your topics.
You should also share a link to every published blog post on your pillar page that supports the subtopic. This way you're informing search engines about the relationship between long-tail keywords and the overarching topic you're ranking for.
In addition to creating a blog, you should also learn to consistently post your blog posts. Try to post at least once a week. And since the purpose of the blog is to inform your audience, make sure you research the target market and find out what audiences are interested in.
7. Be up to date with all SEO news and practices
As you can see, the SEO landscape in 2022 is much different from the one in 2021. This means that things in the search engine world are changing and evolving pretty fast.
That's precisely why you need to stay up-to-date with all the SEO news and trends. You need to always be aware of the best SEO practices so that you can always be on top of your game.
There are several sites and resources that you can follow so that you're always up-to-date with everything related to SEO.
8. Measure your content success
What's the point of the SEO strategy if you don't know if it works or not? If you want to know if all your goals have been met, you need to measure and track your success.
Keep in mind that SEO is something that requires a lot of time and patience – and effort above all, so tracking and measuring the whole process is a must. The results of the measuring will help you adjust the strategy if needed or simply indicate that you're on the right track.
There are a large number of web analytic tools that can help you monitor organic traffic, track indexed pages, ROI, conversions, and so on. Measuring all this will ultimately help you rank higher on SERPs.
Winning the SEO game has never been easy. And that still hasn't changed. The key is to try to keep up with all the SEO news and trends and to update your SEO strategy whenever you see fit. Hopefully, these couple of steps can help you create an exceptional SEO strategy for your website.