Use and usage of Tensile Testing Machine
1: Purpose of Tensile Testing Machine
Also known as tensile testing machine and tensile testing machine, it is a mechanical afterburner used for tensile, compression, bending, shearing and peeling tests of metallic and non-metallic materials.
It is widely used in scientific research institutes, commodity inspection and arbitration institutions, colleges and universities, as well as rubber, tire, plastic, wire and cable, shoemaking, leather, textile, packaging, building materials, petrochemical, aviation and other industries. It is a testing equipment for material development, physical property testing, teaching research, quality control, incoming inspection, random inspection of production lines, etc.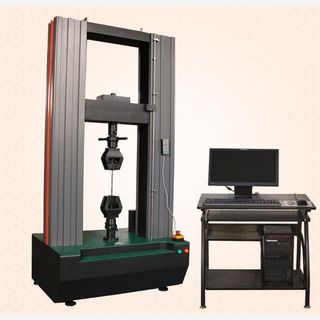 2: Use method of tension tester:
Turn on the main switch.
According to the sample, select the measuring range, hang or remove the swing on the swing rod, adjust the handle of the buffer valve, and align with the marking line.
Install the corresponding chuck into the upper and lower jaw seats according to the shape and size of the sample.
On the rotary drum of the plotter, roll and press the recording paper (square paper). This item is only carried out when necessary.
Start the oil pump motor, unscrew the oil supply valve to raise the test bench by 10mm, and then close the oil valve. If the test bench is in the raised position, it is not necessary to open the oil pump to supply oil first, just close the oil supply valve.
Clamp one end of the sample in the upper jaw.
Start the oil pump and align the pointer with the zero point of the dial.
Universal testing machine is used to test the tensile and compressive physical properties of products and materials.
A complete set of double-column frame with compact structure and high rigidity (double space can be customized).
A set of maintenance-free Panasonic servo motors and drives.
Two imported high-precision ball screws with precision preload.
One high-precision tension and compression two-way load sensor imported from the United States with automatic identification function.
A set of digital open loop or closed loop controllers that can be switched in multiple languages and units.
A portable remote control for convenient and quick operation.
Summary
I know so much about the use and use of the tension tester. After reading this article, you should have a basic understanding and understanding! In general, I hope to help you.